Awesome Day in Großenbrode!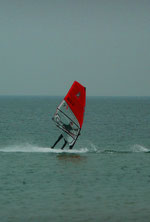 Yesterday I had a really nice Day in Großenbrode together with Kev from the Funsport-Academy Team!
First we were in Fehmarn/Gold, but there was completely no wind...then we navigated to Großenbrode East. There the wind was so high & sick flatwater and I buoyed my 5.3 S-1. I was really full powered and sometimes a little bit to overpowered. But it was very nice and a awesome Day :) Thanks for the pics by Kev!
Seeya;)