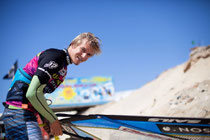 After my foot injury I came back to the PWA circus on Fuerteventura, had some good heats, but in the end, some things were against me during these days. Can't understand this kind of "professional" tour... Looking forward to some nice German Freestyle Battles soon!
Some more days training and checking other spots in the North. 
Thanks to ROBINSON Club Esquinzo Playa for the positive vibes and support!