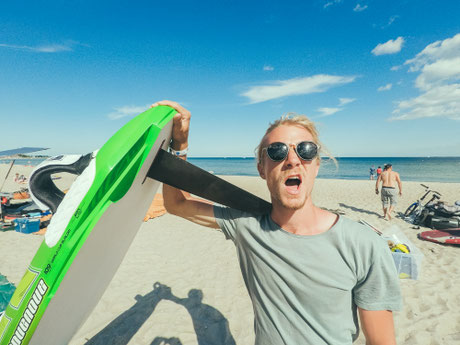 My first official slalom competition ever! 
So I was quite nervous about my participation at the DWC (Deutscher Windsurf Cup) in Grömitz/Baltic Sea.
On the first day we had strong wind up to 30knots. I was out with my 7.8m sail and 109l board. 
In my first heat I had a great start on point and finished straight on 3rd place. The best 4 sailors out of 8 advance into the next round, like a K.O. system. 
Unfortunately in my second heat the wind direction was changing on the whole course and I lost my 4th place, so I came into the "loosersfinal" and made it on 22nd place in the first Elimination. 
The wind was picking up and I was totally overpowered with my 7.8m sail, this is why I lost my first heat in the second Elimination and came into the loosersfinal of round1, where I could managed to became 3rd in the Heat and made it on 33rd overallplace. 
On the second day the wind was not enough to start a third Elimination.
So I became 29th Overallplace in the Slalom division in Grömitz!
Was a cool weekend and I hope I can participate in the next Slalom competition beginning of July again.
But first, back to FREESTYLE!!! :) 
thanks for the pics by DWC & Dennis Müller