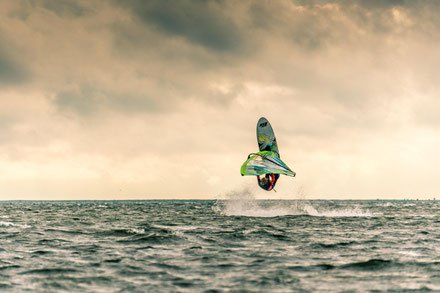 This was definitely the highest level of a German Freestyle Battles in the history! Crazy...
On the first day of the GFB in Suhrendorf on Rügen we started the Single Elimination in the evening, because the rain took the wind away and we had to wait the whole day. I could managed to surf some solid heats before I lost against young Niclas Nebelung with only few points difference.
On the second day we started the Double Elimination and I was able to surf the highest scores of the fleet before I advanced into the round of place 4 against Adi Beholz. Unfortunately I lost with three points difference and finished the event with a 5th place overall.
Thanks to this great Ostseecamping Suhrendorf for having us. 
In two weeks I have the next event already - DWC Kühlungsborn where I'll compete in the Slalom division again. 
Thanks for the pics Tom Köhn.